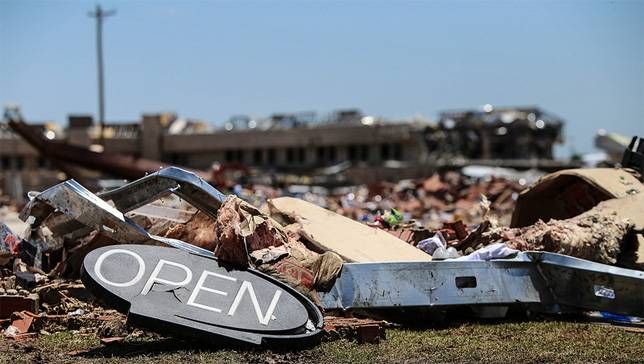 It's the day you thought would never come. The business you worked so hard to build has been hit by an unforeseen disaster and is shut down. Your mind is filled with questions: How soon can I reopen? How will I cover expenses? How do I pay my employees without income?
The harsh truth is that disaster can come at any time, forcing your business to close its doors permanently, temporarily or causing a change in location. Are you prepared to manage the consequences should your business be faced with one of these difficult scenarios?
Fire: Even if the flames didn't start in your part of the building, there might be damage from heat, smoke and water, and utilities could be disconnected.
Hail: In addition to broken windows or a damaged roof, there might be a large amount of water to clean up.
Windstorm: Replacing roofing or siding is an expensive project and staying open could place customers in danger, increasing your liability. A fallen tree can cause thousands of dollars of damage in an instant.
Vandalism: Depending on the extent of the damage, you might be dealing with window repair, extensive equipment replacement and purchase of new signage.
Equipment failure: Even the most reliable machine breaks down. It could take days or weeks to get the right part and get back on schedule.
If your business must close due to these or other disasters, having a business interruption policy can eliminate many concerns associated with the circumstances.
"Ask yourself if your business could pay expenses for a month or more without income," said Caroline Pintabone, account executive at Ahart, Frinzi & Smith, a Trusted Choice independent insurance agency in Phillipsburg, N.J. "Restaurants typically operate without a lot of money in the bank for emergencies, for example."
Business interruption insurance can cover the revenue you would have earned during the closure, based on current financial records, as well as fixed expenses like rent, electricity and payroll while your business is closed. And, if your business needs to relocate, a business interruption policy may pay for those costs as well.
"Insurance companies will pay to get you back up and running as quickly as possible, because it cuts down on loss of income," said Gerald F. Ford III, vice president of commercial lines at Allen & Stults, a Trusted Choice independent insurance agency in Hightstown, N.J. "The key is record keeping. Businesses need to keep updated backup records of their net income and expenses in the event they need to file a claim."
As for covered loss, your business interruption loss rider will mirror what's in your main policy. For example, if theft isn't covered in your main business policy, it also won't be covered by your business interruption policy.
Business interruption insurance cost is dependent on the amount of coverage needed, the risks inherent in your location and what type of business you run. Speaking with a Trusted Choice independent insurance agent should be your first step in estimating how much business loss insurance you might need and how the business interruption insurance claims process works.
Source: Small Biz Trends