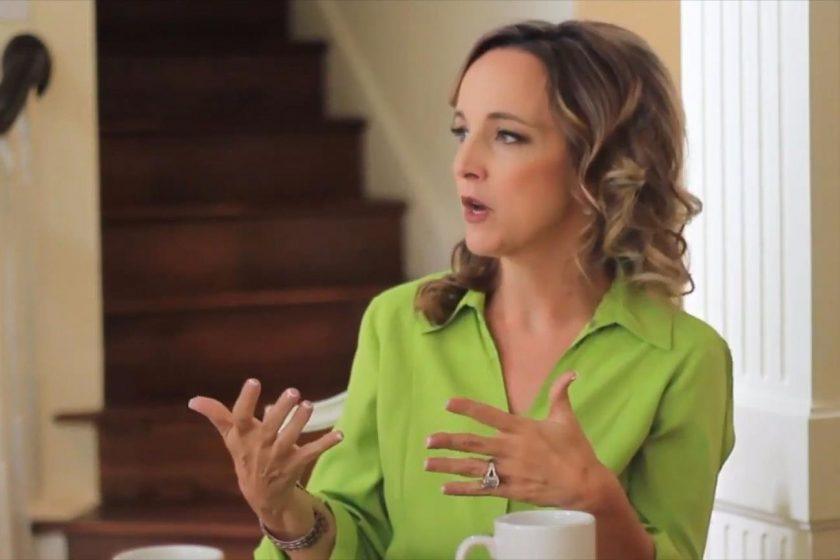 If you've ever thought about working from home or starting a home-based business, you'll want to familiarize yourself with Carrie Wilkerson, also known as the Barefoot Executive. The Barefoot Executive is a website, community and bestselling book that she created to help work at-home professionals.
The site quickly grew into an empire with tens of thousands of subscribers, leading her to become a sought-after speaker and sales trainer. While she built multiple businesses from home over the past 19 years, she was also raising four children, getting out of six figures of debt and losing more than 100 pounds. Named Internet Marketer of the Year in 2009, Wilkerson has been featured on Forbes.com and Fox Business News and has worked with clients such as Google, John C. Maxwell, Zig Ziglar and more.
Clearly, she has a lot to teach us about success, so I visited her Texas home recently to ask how she built her powerful brand and how other entrepreneurs can build a successful empire from home.
1. Look for a need in your closest market
Wilkerson got her entrepreneurial start at a direct sales company, but soon realized she could have a separate business offering a service to her fellow independent consultants. She began by asking those she knew if they could use an email newsletter. Eventually, she was making newsletters for 200 clients — and that was with consultants from just one direct sales company.
"I started my business like everybody does — with just who I knew. I sent out an email, I worked with one client for free for two months to get my systems down, my processes done in exchange for her recommendation and her referrals," Wilkerson explains. "And it literally was like … you tell two friends, and she tells two friends, and she tells two friends. So we grew by referral very rapidly. At one point, we were growing by 10 to 12 clients a day."
Consider your current immediate community of fellow moms, marketers, engineers, whatever — what is a need they have? Wilkerson says you don't start an empire, you start with who you know and "grow into it."
2. Truly commit
Entrepreneurs are not known for patience. Sometimes, in an effort to move fast and wear many hats, they struggle with focus — and focus is a key component in the stories of the successful people I interview. Wilkerson's life changed when she committed to going all-in on her new service business for three months.
"[My husband said,] 'Just give it a good Carrie Try for two to three months before you give up.' And I think as entrepreneurial-wired people, we sometimes want it to work right now or not at all," she says. "At the end of three months, he was exactly right. We had [approximately] 70 clients on a recurring basis already by then, and we knew we were on to something."
Most entrepreneurial people are creative, resourceful and efficient — a force to be reckoned with when focused. Make sure you are truly giving your idea or business your full attention to get it off the ground.
3. Consider a service
"Service businesses are probably your fastest path to fast cash," Wilkerson says. "Everyone has some kind of skill that they can generate money with."
Wilkerson added an interesting point here, explaining she wasn't passionate about creating email newsletters. She was passionate about why she was doing it: getting out of debt and being home for her kids. Unlike the standard "follow your passion" advice, Wilkerson advises that you need passion for why you do what you do as an entrepreneur, but not necessarily the what.
4. Create a strong brand
Wilkerson started the Barefoot Executive website because she knew there were other aspiring work-from-home executives and entrepreneurs who needed guidance. She also knew that working from home can feel lonely, so she tried to create a community that solopreneurs lacked. Her subscriptions grew quickly, as did her Twitter following.
Soon, she was receiving speaking and coaching gigs organically, and publisher Thomas Nelson reached out to her about writing her first book. The key was her recognizable, relatable brand. Wilkerson says your brand must be visible, known and serve an audience.
"Really know what your message is, what is your story? Being a good speaker or great writer is not enough," she says. "You have to know what your thing is and you have to be true to your thing."
5. If you want balance, create boundaries
For the work-from-home executive or the home-based entrepreneur, boundaries ensure success. First, you must train yourself to stick to policies, such as when you wake up, when you have closed-door time to write or when you have phone-free time to be with family. Second, you must train your family, friends and spouse. Make sure the boundaries you create with your loved ones are truly what's best for your family. That way, you'll believe in them enough to stand firm and say no when needed. Lastly, train your clients, vendors and staff. Wilkerson also recommends you use software and create systems to create boundaries that keep you from doing everything yourself, which won't allow you to scale.
"You have to create what's important for your family — whatever that family looks like, even if it's just you — and then you have to be firm enough in that belief, that you can tell other people, 'that doesn't fit in my schedule right now, thank you for thinking of me, I can't do that right now,'" she says.
6. Foster real relationships
"Real relationships matter, not the numbers of followers. … People are still blown away when I send a thank you note. What a shame, people shouldn't be shocked by that," Wilkerson says.
She says showing up online and at events, making connections and finding a small, genuine like-minded community have been vital to her success.
7. Don't compare
If you're building a brand online, it's difficult not to compare it to your colleagues and competitors, especially if you're building a personal brand as a speaker or coach. Wilkerson doesn't watch or read other people's content. Comparison, she explains, only serves two purposes: It will either make you feel badly about how behind you are or inflate your ego because you're ahead. Neither serve your business.
"My number one piece of advice is to not compare yourself to everyone else," she says. "You can defeat yourself. You can literally freeze yourself in your tracks, either with comparison or envy."
8. Add massive amounts of value
How did Wilkerson grow her speaking career to working with clients such as Zig Ziglar and Google? The answer is simple.
"Opportunities are rooted in the value you provide, in the work you're doing." she explains. In a social stat world where everyone wants to be an expert, Wilkerson says, "quit trying to be an influencer and try to serve" and everything else will fall into place.
Source: Entrepreneur