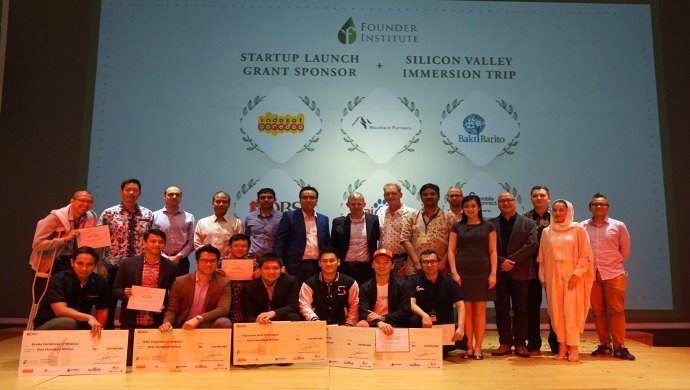 On Monday night, February 13, the Jakarta Founder Institute hosted a graduation party for its sixth batch, which consists of nine startup founders including Rifki Pratomo (Andalin), Errika Ferdunata (Bildeco), Marvinus Kokoh Arif (Fishare), Antonius Stefanus (Neetip), and Erik Hormein (Sevva).
The nine founders came out as a result of a selection process invlving 75 participants for the batch. All graduates will depart to Silicon Valley next week as part of the process. Apart from that, JFI also announced five best graduates who are set to win IDR100 million (US$7,500) cash prize.
Founder Institute is a four-month long training programme operating in 20 countries, which aims to train new founders to produce the best generation of entrepreneur in each company. The programme facilitates weekly session attended by experienced mentors to help founders develop and launch their business.
In Indonesia, JFI is supported by the various partners from Indosat Ooredoo, Baidu, Kejora, Mountain Partners, to Bakti Barito and many more.
Unlike the previous batch, the Founder Institute also took this year's programme to a whole new level by forming a Board of Director, consisting of Boye Hartman (Y Group Asia), Andy Zain (Kejora), and Izak Jenie (Digital Artha Media).
"The graduates today come up as different persons compared to how they were when we first met 14 weeks ago. I hope that the graduates may put into practices all the knowledge that they have gained during the training," said Hartman.
Jenie added that, "We expect the founders graduating from JFI to be strong, to know what they are doing. We are also happy that two out of three winners of Ideabox Batch 4 are also graduates of JFI."
Sevva Founder and CEO Erik Hormein stated that he was grateful for the Founder Institute programme. There were many challenges that he had to face during the 14 weeks of the programme; he gained not only knowledge but also strong ties with the other graduates.
"The journey has been difficult. But it has brought us closer to each other. Meeting fellow entrepreneurs with the same vision has created a very positive energy. This is something that you cannot exchange with money," he said.
Source: e27