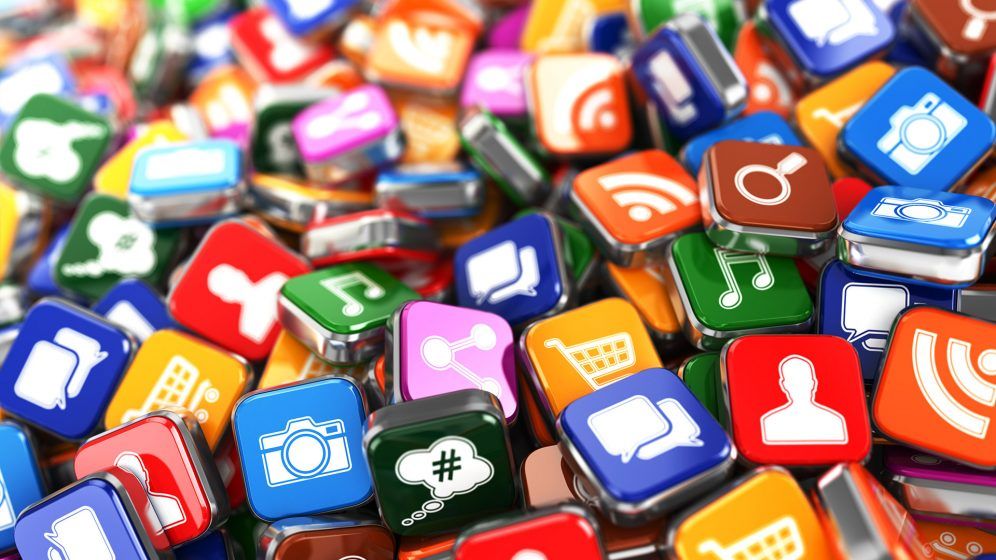 Apps are everywhere. Research has shown that Americans on average spend nearly three hours per day using mobile apps, and on top of that we tend to put that time into fewer than five apps daily. If you're going to spend so much of your life working on, listening to or playing an app, it better be worth it, right?
Whether they're free, native to your phone, or cost $10 to purchase, you want the app to change your life for the better by doing something no other app can. The good news is that many apps really do go to work for you. From simplifying your routine to clearing your mind or just helping to bring you joy, clear out some storage space and take advantage of what these apps have to offer. All are for iOS and Android phones, unless otherwise noted.
1. Duo
Maybe you've got an iPhone and are looking for an alternative in the video-calling space. Maybe you've got an Android device and Skype doesn't really do it for you. Enter Duo, Google's answer to Apple's ubiquitous app-turned-verb, Facetime. Available on both Android and iOS, with Duo you can make video calls to anyone else with the app and a phone number. It's simple to use and there's an immediate upgrade: the "Knock Knock" feature shows you live video of the caller before you even pick up (insurance against screening a call, perhaps?).
2. Hours Keeper
Being self-employed has its benefits; keeping track of your hours is not one of them. Hours Keeper simplifies the process by organizing the time you spend on multiple clients, letting you sort your hours by pay period and create invoices in seconds with its free PDF template. You can enter your time manually or use the clock-in/clock-out function that acts as a running timer, ultimately helping you stay focused and make the most of your time. There is a paid pro plan.
3. Healthy Living
So, you're eating more organic foods? Excellent. Reading more nutrition labels? Bravo. But what happens when you start asking questions about what's in your everyday products like shampoo or shaving cream? Who do you ask? And are you going to need a translator to understand it?
Enter Healthy Living from EWG (Environmental Working Group), a comprehensive, ratings-based app that explains exactly what ingredients – read: chemicals – are in more than 120,000 food and personal care products. You can search for a product by name, scan a barcode or scroll through the app's own recommendations on everything from the best serums to cereals.
4. Square Cash
One of the newer digital wallet options on the market, the Cash app from Square lets you instantly send money for free to anyone with the app and between different banks via email, text or a "Cashtag," a personalized website (and buzzword) where you can receive money from friends and family. Your account is linked to your debit card, so there's no separate Cash account balance to think about. And bonus: the Cash app has an option for businesses so you can accept payments from clients with no limit to the dollar amount you receive.
5. Parking Panda
You're showered, dressed, remembered car keys/phone/wallet and made it out the door miraculously on time. However, it's Saturday night and you have no idea where you're going to park or how to avoid paying through the nose. Worrying about finding a spot or paying for parking at peak times is starting your night on the wrong foot. Next time, spend about 90 seconds searching Parking Panda for lots or garages near where you're headed. The app is available in more than 40 cities throughout the U.S. and secures discounts up to 70 percent off peak prices. You'll be able to see a map with the cost of a spot at each location, then pay for it in advance and guarantee that it will be there waiting for you when you arrive. Whew.
6. Evernote
If you're constantly searching a combo of a notes app, Pinterest board and bookmark folder for the trove of digital info you create and save, it's time you try out Evernote, which has become the standard among productivity apps and digital notebooks. Evernote collects everything you want to remember in one streamlined platform that's with you wherever you go. Create a note, scan a handwritten note or "clip" a web link and save it within a larger notebook or tag that you can then search for and access across all of your devices. The app has tiered paid plans and a version for Windows Phone.
7. Dashlane
Dashlane is like knowing the host at the hottest restaurant in town. Just show up and you're in, quickly and seamlessly. Dashlane securely stores personal passwords, IDs and personal details plus credit card and digital payment information so you don't have to. The app will generate secure passwords for you so no two are the same, and it helps you complete online checkouts in seconds as it automatically loads your stored address, contact and payment information. Using it on one device is free, or you can pay $39.99 for one year's worth of access across multiple devices.
8. Keelo
We're all short on time but want to make the most of it, right? Keelo gets this by focusing on high-intensity interval training (HIIT) and offering strength, cardio and conditioning workouts ranging from about seven to 20 minutes to complete at the gym or at home. Not only does it devise a workout plan based on your goals, it spells out what you're going to be doing at each stage of the workout so you know exactly what to expect before you get started. Plus, you'll have the option to sync with Apple Health and can track your results and access a virtual coach to keep you going. You've run out of excuses at this point…right? A  paid premium plan is offered.
9. Headspace
Now that you're equipped with ways to streamline your life, it's time to clear your mind. But if you have trouble blocking out the noise and finding some peace, Headspace can be your guide. Wall Street executives, Olympic athletes and moguls from Richard Branson to Arianna Huffington are already among the app's more than 10 million users worldwide. The free Take10 program eases you in by introducing you to the practice of meditation for 10 minutes a day in 10 days, while a subscription unlocks access to a deeper range of mindfulness exercises from just a couple minutes to one hour. Tailor it to focus on what matters to you most and reap the benefits of its straightforward instructions on breathing and visualization.
Now that you've freed up some screen space (and possibly even your data plan!), let these apps help you kick start a new habit and make the most of your time.
Source: Entrepreneur