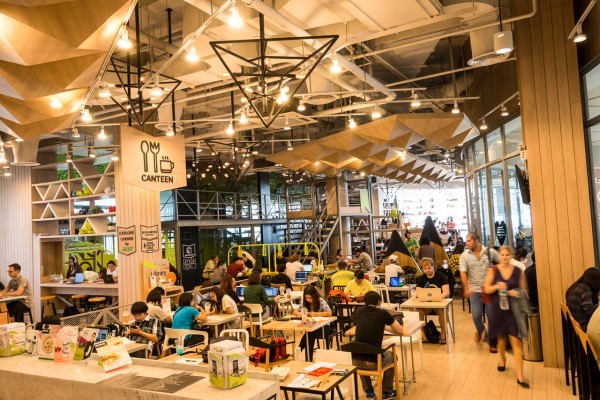 Unilever Foundry, the international consumer goods company's innovation arm, announced today the launch of Level3, a new co-working space in Singapore.
The 22,000-square-foot (2,040-square-meter) space is located at Unilever's regional headquarters in Singapore's Mapletree Business City area. It communicates with the rest of Unilever through a well of staircases, giving the impression that Level3 actually consists of several levels.
In a sense, that's the idea. Level3 is not only supposed to be a space for startups to park their laptops and base their operations, but also for Unilever teams to visit the space easily and connect with companies and ideas they find interesting.
Currently home to 15 startups, Level3 will bring together startups, investors, and Unilever itself. "It allows us to tap into the great startup community that's here within Singapore and helps us build a base to launch Singapore businesses or even global businesses in this region," Jonathan Hammond, head of Unilever Foundry, tells Tech in Asia.
The space is open to startups that have a product in their hands, but it will focus on companies that work with marketing and ad tech, enterprise tech, products and ingredients, social impact, and new business models.
Eventful
For its creation and running, Unilever has partnered with Padang & Co, a Singapore-based startup that helps connect businesses to corporates and the government through events, workshops, hackathons, and more.
Besides working spaces with the usual range of storage, connectivity, and fully-stocked pantry services, Level3 will host events, workshops, fireside chats, and training sessions. It sounds like what most co-working spaces in Singapore offer, and it is – but Padang & Co CEO Derrick Chiang feels that Level3 can offer a different kind of value to startups that sign up.
"A lot of other spaces are a way to monetize property," he tells Tech in Asia. "Our starting point for Level3 is not a real estate play – it comes from a wish from Unilever to extend what they started doing with the Foundry."
Derrick feels that a lot of the work Padang & Co has been doing, organizing hackathons, bringing startups together with corporates, and encouraging open innovation and collaboration between businesses, lends itself naturally to Level3's version of the co-working space.
"We realize the ability to have a physical space to do events as and when we want it, to have that control, presents very interesting opportunities," he says. "Rather than trying to constantly think of ways to ferry people from upstairs to a tech conference, we can try to have a constant stream of content they can plug into, throughout the year."
Working together
Unilever Foundry started in 2014 and its Singapore program launched in January 2015. Through it and Level3, Unilever is looking for companies it can partner with on projects involving the company's products or local teams.
Examples include visual marketing platform Olapic and social enterprise Next Billion. US-headquartered Olapic has expanded to Europe with Unilever and is now reaching Asia, working out of Level3. Singapore-based Next Billion, meanwhile, has worked on a number of pilot projects with Unilever.
A 2016 project involving Next Billion gave Unilever Bangladesh access to the startup's media and data platforms for an NGO program that supports rural female entrepreneurs. A pilot with Unilever's Lifebuoy hand soap was used to increase awareness of health and hygiene.
"Unilever gets new ways of thinking, access to potentially disruptive businesses, new ways to communicate or understand consumers, changes in finance, logistics, supply chains," Jonathan says. "Ideas are not just spawned inside the four walls of Unilever, it's important we start looking outside."
Companies that have worked with the Foundry have gone on to attract investment from Unilever Ventures, its venture capital arm, but Jonathan doesn't disclose any specifics.
"Level3 offers our business a direct connection with disruptive technologies and changemakers to shape the way we work – ultimately impacting people's lives," says Pier Luigi Sigismondi, Unilever president for Southeast Asia and Australasia.
Dr. Beh Swan Gin, chairman of Singapore's Economic Development Board, who attended the launch, said, "Level3 represents an emerging corporate innovation model that is aligned with EDB's efforts to encourage collaborations between multinational companies and other enterprises such as startups."
Source: Tech In Asia