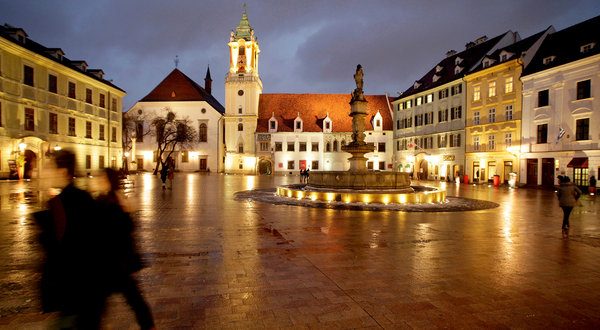 Jaroslav Luptak, the co-founder of venture capital firm Neulogy Ventures in Slovakia, was 5 years old when Czechoslovakia, a former satellite of the Soviet Union, emerged from communist rule. Just a few short years later, Slovakia would become an independent state.
"At the time, 'entrepreneur' was almost a swear word," Luptak says, adding that his father–who started a lumber mill in the 1990s–was viewed negatively by many Slovaks. "At that time, it was basically a gold rush. Big companies got privatized, and most of them just got sold in pieces for a profit, so people lost jobs," he explains.
Yet attitudes toward entrepreneurship in Slovakia have changed in recent years, founders and investors tell Inc., as small businesses help boost the economy. The country's total economic output reached $86.6 billion in 2016–of which small- to medium-size businesses contributed 57 percent, according to the research firm Global Entrepreneurship Monitor.
"It's still a really young market, and every year you can see changes," says Jakub Klimes, a co-founder of the Slovakia-based software startup Jump Soft, which grew its sales by 1,965 percent between 2012 and 2015. The company booked 4.8 million ($5 million) in 2015, selling technology solutions to third-party companies across Central Europe.
That trend is reflected in the results of this year's Inc. 5000 Europe list, an annual tally of the fastest-growing private companies in Europe, according to three-year revenue growth. As of 2017, the capital city of Slovakia–Bratislava–is home to 107 companies on the list, coming in just behind Stockholm, Sweden, which has 134, and London, which has 177.
Bratislava makes an especially strong showing in the IT and transportation sectors, and has drawn the attention of world-renowned entrepreneurs like Elon Musk. The Tesla and SpaceX founder's "Hyperloop" technology–a high-speed, tube transportation system–may see its first implementation in Bratislava, for example. (Recently, the Los Angeles firm Hyperloop Transportation Technologies says it signed an agreement with the Slovak government to begin work on a project connecting the capital to other Central European hubs.)
That's not to say there aren't drawbacks to starting a business in Bratislava. Government regulation has been known to hamper small-business growth. Additionally, access to venture capital is nowhere near what's available in Western hubs like Silicon Valley and New York.
Even so, here are four things Bratislava has in spades–giving the Slovakian capital an edge over its European counterparts.
1. Resources
Of course, Bratislava–which has a population of just 413,000–is a tiny market, so startups tend to be internationally focused from the beginning. It helps that Slovakia is uniquely positioned at the heart of Central Europe: It borders the Czech Republic, Austria, Hungary, Ukraine, and Poland. While the official language of Slovakia is Slovak, small businesses increasingly conduct their operations in English, notes Luptak.
There are also a number of resources available to entrepreneurs in the capital, including the accelerators Clusterhaus, Connect, and Impact Hub. Six years ago, Luptak helped launch Startup Awards, a startup competition that invites early-stage companies to compete for the chance to win $50,000 in cash and prizes. Last year, the Bratislava conference drew serial entrepreneurs including Uri Levine, the co-founder of travel-navigation app Waze, which sold to Alphabet for more than $1 billion back in 2013. Meanwhile, the government-sponsored Slovak Business Agency aims to provide funding, consulting, business loans, and other resources to local startups.
2. Tech talent
Slovakia is home to a trove of tech talent, stemming from local engineering schools including the Slovak University of Technology in Bratislava–which currently counts more than 15,000 students and 147,000 graduates–as well as the nearby Technical School of Kosice, in the country's second-largest city. Still, young startups have to compete for that talent with major tech companies including AT&T, Lenovo, and Dell, which all have offices in Bratislava.
"When you're building a global company from Bratislava, there's a lot of technical talent, but there are also a lot of big wealthy companies that are able to pay them," says Luptak.
Startups may also struggle to offer competitive benefits to their employees. While it's easier to start a business in Slovakia than it was 10 years ago, entrepreneurs still have to navigate plenty of red tape. For example, it's especially difficult set up a stock options program here. (At Jump Soft, the Bratislava software startup, there is no direct model for employees to have a stake in the company, though it manages to provide workers a share of the total profits over time.) Young hires could easily be enticed by a stake in a startup–but without that stake, they're more likely to turn to established companies.
3. Venture capital
Venture capital investment in Slovak startups has risen over the past several years, with the creation of funds including Neulogy Ventures, Braun Holding, and Limerock. According to the 2016 KPMG Startup Ecosystem Survey, 77 percent of investors in Slovakia had increased their number of investments from the previous year. However, these are largely early-stage or seed funding rounds, as the majority of Slovak startups are still in their infancy: Fewer than half (46 percent) have raised external funding, the KPMG data found.
"Young companies have quite good access to angel and seed money in Slovakia," says Michal Koor, the CEO and co-founder of Vectary, a 3-D modeling business that launched in Bratislava in 2014. Still, he says, "for later stages, companies should consider where their market is and look for smart money there." (Vectary is in the process of moving its headquarters to New York City, after raising $2.5 million from BlueYard Capital, which is based in Berlin, and from Luptak's Neulogy Ventures.)
4. Successful businesses
The proliferation of small businesses in Bratislava can also be attributed to more recent startup successes, including ESET, an IT security company that launched in 1992, and now counts more than 100 million users across 202 countries. As more would-be entrepreneurs see these companies emerge successful, says Jump Soft's Klimes, more startups will become inspired to think globally.
"Once they hear more and more stories about successful businesses," he adds, "they'll slowly get on the train, and become [less] shy to approach the international market."
Source: Inc Asean